A Private Training Transformation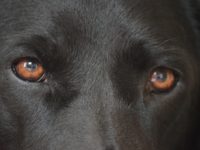 Private Dog Training Testimonial
We came across Dewey, a Black and Tan Coon Hound/Jack Russell Terrier mix, by chance. He was on his third home when we got him via an allergic child, an abusive hunter, and a kindly nun. We took him in and knew right away this was a dog beyond our experience. We'd had every kind of animal, dogs included, but this one was so hurt we couldn't and didn't know how to reach him. He was terrified of men, growled and barked at my husband, sneaked around the house and hid, and urinated when you touched him. When he was off the leash, he ran and wouldn't come back, only returning hours later.
I contacted Karen Abell and told her our situation. She asked a thousand questions in that initial conversation from where the dog ate to where he slept and how we reacted to the dog. She could tell from what she heard that this dog had been abused. She first shared some insight into the behavior of abused dogs such as the submissive urination, for example, a type of behavior more related to fear than disobedience.
Within five minutes of Karen coming to our house, Dewey responded to her. She helped us narrow down the trigger for his aggressive behavior, which turned out to be not men but heavy coats, which my husband wore a lot.
Karen helped develop a ritual for Dewey and explained the many benefits of crating (safe haven, time-out area, etc.). With her positive reinforcement approach, she built confidence and trust in Dewey through kindness, treats and consistency. She clearly explained dog behavior and how to mold it for a better human-canine relationship. Karen got to the point quickly, treated us with great respect, and didn't mind the hundreds of questions or our inexperience with a dog of this caliber. She was adamant the dog should blend into our household (with a toddler and other animals) and not vice versa.
As a busy family, we did not have unlimited time or resources to deal with Dewey's behavior. Karen's training methods perfectly blended a patient approach with short sessions we could fit into our schedule, and Karen was readily available by telephone, e-mail or in person. When improvements came too slow, and Dewey seemed hopeless, Karen was there with encouragement and an open ear.
Four months later, Dewey is a changed dog. He's happy, loves my husband and daughter, and is a special part of our family. Few people recognize him as the scared dog we took in almost a year ago. Dewey's success encouraged us to take in another abused stray dog, Dixie, a Siberian Husky mix. We now have a two dog household that runs smoothly because of positive reinforcement training, crating, and realistic goals. We thank our lucky stars to have had Karen as our trainer and resources.
– Michele Douglas