Right Start Puppy Class spring special! Save $50.00 on your tuition for class if you enroll by 4/25/18!
Right Start Puppy Class is for puppies 9 – 20 weeks of age. Enrollment must be completed by 4/25/18 at 4:00 PM to be eligible for the $50.00 discount on the Right Start Puppy Class. Complete enrollment includes the training application, applicable veterinary records of vaccinations and negative fecal within New Beginnings K-9 Training policy and payment of tuition.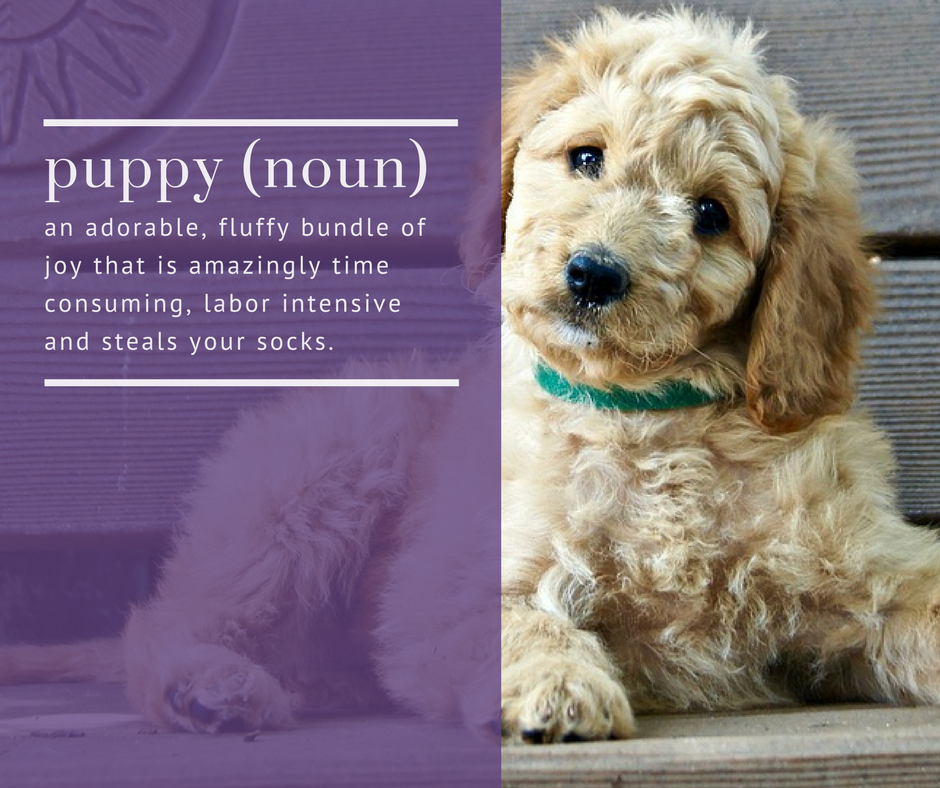 Puppy Developmental Deadlines
2 Months
Socialization, housetraining, and basic manners should be well underway by eight weeks of age, regardless of breed or breeding. 
3 Months
By 12 weeks your puppy needs to be socialized to people, especially strangers and children.
4 1/2 Months
The time window for a puppy to develop bite inhibition, also known as a "soft mouth", begins closing at four and a half months. The best way to learn bite inhibition is with other puppies and dogs, especially with their mother and litter between 6-8 weeks of age. Puppies separated before they are 8 weeks of age, tend to have more of an issue with biting and chewing.
Dunbar, Ian. Before You Get Your Puppy. James & Kenneth Publishers, 2001. – Dunbar, Ian. After You Get Your Puppy. James & Kenneth Publishers, 2001.
Take a look at the age of your puppy compared to a child to get a better idea of how quickly your furry family member really grows.
2 Month Puppy
3 Month Puppy
4 1/2 Month Puppy
6 Month Puppy
8 Month Puppy
12 Month Puppy
2 Month Puppy
Equivalent to a:
~2 1/2 Year Old Child
3 Month Puppy
Equivalent to a:
~4 Year Old Child
4 1/2 Month Puppy
Equivalent to a:
~5 Year Old Child
6 Month Puppy
Equivalent to a:
~9 Year Old Child
8 Month Puppy
Equivalent to a:
~12 Year Old Child
12 Month Puppy
Equivalent to a:
~15 Year Old Child
Puppies and adolescent dogs go through fear periods just like children and can experience many of the same things during these times.
Puppies
1st Fear Period
Between 8-11 weeks of age
Adolescents
2nd Fear Period
Between 6-14 months of age
0-2 Year Old Child
3-4 Year Old Child
5-6 Year Old Child
0-2 Year Old Child
Anxiety with strangers or people they have not been around often peaks at about 6-8 months of age.
At 2 year old the child can begin to experience a fear of separation from their parent or caregiver. 
Toddlers are frightened by new experiences.
3-4 Year Old Child
At about 3 years old, children can be very disturbed by events or situations that are not what they've come to know or expect from previous occurrences.
If a loved one, such as a grandparent, passes away a 3-4 year old could begin to experience a fear of death in the sense that they will pass away too.
5-6 Year Old Child
While Kindergartners tend to be less fearful than 3-4 year olds, they continue to fear the"unknown" – such as thunder and lightening.
At 5 years old the child can experience another period of fear in regards to separation from their parent or caregiver. 
During this time children also become aware and can begin to fear the "bad guy".
In This Course We Cover:
How Your Puppy Learns – Knowing the basic principles that shape all animal behavior gives you lifelong tools to get what you want from your dog.
House Training Do's & Don'ts – Get the ABC's of potty training.
Show Your Puppy How To Be Polite – With behaviors like sit, down, loose-leash walking and recall.
Impulse Control 101 – Teach Your Puppy that patience pays and prevent jumping and leash-pulling.
Handling & Socialization – Puppies can learn to love being groomed, having their nails cut and meeting strangers at the park.
Problem Prevention – Avoid serious behavior trouble down the road by establishing good manners & routines from the start.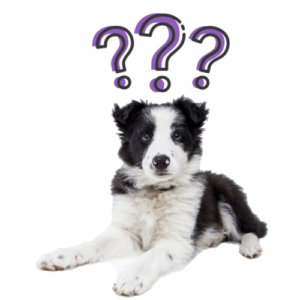 $275 for a consecutive six week course, including orientation. Each class is 45 minutes in length and there will be no make up classes, so please plan carefully. Schedules may include Skip Weeks. Skip Weeks do not effect the total number of classes during the course.
Enrolling is Easy! Here's How:
1st: Fill out our training application and veterinary release form. The veterinary release form allows us to obtain your dog's records directly from your vet.  Or, if you prefer, you could contact your vet's office and have them fax it to us. Our fax number is 888-449-5427, or you can drop them off yourself, whatever is convenient for you.
2nd: We review your application and contact you to discuss everything.  
3rd: We call to finalize your enrollment by scheduling your Orientation and securing payment.
As always, we love helping our clients, so let us know your questions or concerns.
ALL orientations for our classes are mandatory and 

are held on select

 Saturdays from 1:00 PM – 2:00 PM and are 

without dogs

.
Currently the next Orientation will be held Saturday, 4/28/18. To attend this Orientation your enrollment must be finalized by Thursday, 4/26/18 at 12:00 PM.
Seats Currently Available in Class: 5
Seats Currently Available in Class: 6
We used Karen and New Beginnings when we got our first dog 11 years ago. He had numerous behavior problems and she helped us understand what he was going through. With consistent training and support for both us and our

dog, he is still happily with us today. So when we found ourselves unexpectedly with another puppy, Karen was the first person I called for help with training. Her patience and support have been above and beyond, always. Whatever type of situation you find yourself in with your dog, from normal puppy training and socialization to anything more difficult, Karen is able to help. She loves our dogs as much as we do and wants our success.

read more
Ann Wittmer
20:22 25 Mar 18
Karen is very knowledgable. Her methods work! She is patient with me and my dog. 😊Addendum March 2018: What a change in my dog. She is calmer, eating well, mostly house broken, and fun! She now loves her crate

where before she was terrified of it. And she is learning to use the treadmill! How about that?! I admit the training is as much for me as it is for the dog. (Ha!) Karen has been so wonderful to work with. I highly recommend her.

read more
julie ossege
23:32 06 Mar 18
New Beginnings and Karen have been wonderful! I love that they love my pup as much as me AND I love that they encourage good behavior too! I feel fully confident and relaxed when she's there and know she's getting the

exercise and socialization that she needs. I love that they treat each dog with individual love and care. This is clearly so much more than a business- its a calling. I am so very sad that they had to close. My pup will miss them immensely and so will we. I look forward to see what the next generation NBK9 is. With Karen at the helm, I'm certain that it will be ground breaking and dog-wonderful!

read more
Emily Long
12:43 29 Sep 17
Love everything about this place. We started with training for our dog 4 years ago. We quickly fell in love with the team, everything they were teaching us and our dogs positive response to their training methods and

them. We started doggie daycare soon after that and can't imagine our life without it. Our high energy boxer goes there 2 days a week and has the biggest smile on her face when we pick her up. Karen and her team are caring and knowledgeable and I wouldn't trust my dog to go anywhere else.

read more
Earnest Jackson
00:15 23 Aug 17
The owner and staff at New Beginnings K-9 Training are hands down the best in the area. Finley our five month old GSD has been going to New Beginnings since we adopted her at eight weeks of age. After adopting Finley, I

looked high and low for the best training and boarding facility in our area. Several people recommended New Beginnings K-9 and shortly after orientation, a tour of the facility, and meeting the owner, it was easily the best decision for our new addition to the family. For the past several months Finley has been attending puppy and obedience training two days a week and the classes our paying off tremendously. Finley would not be the dog she is today if it was not for the in-depth training she has received from the highly trained owner and staff at New Beginnings K-9. In addition to the training, we also utilize the boarding services for Finley at New Beginnings when away on family vacations. It's nice to leave home knowing our puppy is having fun and most importantly in caring hands. I know Finley is always excited to see us when we return home, but I also know she loves to spend her days at New Beginnings K-9. I can't thank the owner and the staff enough at New Beginnings for all of the work they have done to coach and train Finley to be the amazing puppy she is today and providing her the best care when we are away from home. It's so good to know Finley has a second home in New Beginnings K-9 Training.

read more
David Schmauch
13:58 22 Aug 17
When we got our lab puppy, we thought we could handle the training on our own, but soon we realized we needed help. Thankfully we found New Beginnings. We were just looking for training, but now Willow is in daycare

twice a week and has boarded when we can't take her with us. She loves Karen and all the amazing people that take care of her. She is thriving in training and so are we. We went through an intense training with our last lab and I knew I wanted a different approach. This is more than positive reinforcement, Karen shows you how the dogs think and how to read their body language. She has given me the confidence that I need to make Willow a better and happier dog.

read more
Tina Slaght
01:23 22 Aug 17
This place is nothing short of incredible! I was so nervous about taking our dog to a kennel after all of the bad things you hear. They treat him like he is their own. They love these dogs so much and they are well

taken care of! I am never scared to leave him here because I know I don't have to worry!!!

read more
Jennifer Wetzel
21:34 14 Aug 17
Being a new dog owner as of last fall, we were fortunate to find such a great dog care facility. New Beginnings has been a much needed source of guidance and confidence with allowing us to raise a well-behaved yorkie.

As a puppy, our dog, Scout, had ringworm and was unable to attain social skills that majority of other dogs had already gathered by that time. In taking our pup to New Beginnings, he was able to slowly get acclimated to the normal sociability of his age. New Beginnings has truly made a difference in our pup's life and has been a tremendous blessing to our entire family. We don't know what we we do without doggy daycare and boarding! Our dog loves all the playtime with his pup friends, and we know he is safe and well taken care of at New Beginnings.

read more
John Martini
01:15 14 Aug 17
NBK9 is a top notch doggy daycare and boarding facility. They treat the dogs with the utmost respect and are completely open and forth coming with everything that happens in the facility. I also love the set pick up

and drop off hours. As the owner of a dog with high anxiety I know how stressful it is for my dog to see people and animals coming and going all day. At NBK9 SHE gets to actually relax as she would at home. Anytime I bring my dog there she can't wait to run in the door, which is her way of telling me she loves it there!!

read more
Stephaney Theobald
15:38 05 Jul 17
As a new dog owner, K9 Beginnings has been amazing. Karen and her staff set the bar extremely high for how a boarding and training facility should be operated. With scheduled drop off and pick up times, dogs are

treated to a routine and scheduled day. This helps establish a secure and anxiety-free environment for all pets. Dogs are treated to a pristine facility, trained employees, and safe AND supervised play times. Facebook and Instagram posts will also allow you to see all the fun your furry friend is having while you can enjoy your daily routine or vacation. Our dog will not be boarded anywhere else. The competition??? There is no competition because no other facility is ran the same way as Karen and her staff.

read more
COURTNEY SCHREIBER
18:33 03 Jun 17
I have been taking my dog to New Beginnings for over 3 years now. She has day care three days a week and boards on occasion. Karen, Mark and all the staff have always been so helpful, attentative and especially

wonderful to Xena. The structured program they have developed and follow really sets them apart from any other day care in this area. I visited several, tried a few and when I finally found New Beginnings, we have been huge fans ever since. Xena absolutely enjoys every day and every stay.I highly recommend New Beginnings to anyone looking for quality daycare.

read more
Terry Frey
15:52 01 Jun 17
New Beginnings has been absolutely wonderful. Karen and her staff are well trained professionals who only want the best for each and every dog. They have worked with us and given us plenty of advice and training tips

for our overly hyper dog. New Beginnings genuinely cares about our dog and will be honest about anything that needs to be addressed. Before we decided on New Beginnings for day care and boarding we looked at other places, however, New Beginnings far exceeded our expectations. The environment keeps the dogs anxiety low and also gives them a place to play on real grass. The facility is top notch and exceptionally well maintained. New Beginnings has helped us better understand our dog and worth every penny. Our dog is a better dog because of new beginnings. We would not trust our dog with anyone else.

read more
Sami Phillips
00:30 13 May 17
We take our 4 yr. old grand dog, Joey, to day care at New Beginnings. He is a Golden Retriever. He was also a bit skittish and shy. The Staff at New Beginnings called me his first day of day care around noon to come

& pick Joey up. School is supposed to be all day. Karen, the owner, greets me at the door & informs me Joey is not a happy camper. She suggests we start Joey at half-days as she wants him to be more comfortable with his new surroundings & friends. She was looking out for our beautiful dog's best interest. We did half-days for two weeks. He began to trust & love the staff at New Beginnings. They were only concerned about what was in the best interest for Joey.We then enrolled him in obedience school, which they reinforce at day care. It was a blast taking these classes every Saturday morning. They encourage the whole family to participate!But don't kid yourself. The training is really as much for the humans as the dog! Through the Holidays we put him in boarding for a day, as we had so many people in from out of town. The staff member greeted me & exclaimed "Oh great! Joey is here. My dog is here today & they are great friends!" The minute I say to Joey, "We have school today," he runs to the door! I take him to school & he doesn't even look back at me. He cannot wait to get in there & see his friends! The staff couldn't be any nicer to our dog! They are always engaged and aware of how he is doing.When Joey gets home he is one tired dog! I cannot begin to tell you how much more confident, friendly, and, it goes without saying, better behaved pet we now have!New Beginnings goes above and beyond anything I could have hoped for in a day care program for our Joey.Thank you New Beginnings for the love and trust you have brought to our family!Cindy & John Carey

read more
Cindy Carey
00:42 31 Dec 16