Living With a Dog with Medical Needs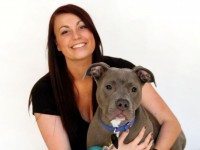 Living with a Dog with Medical Needs
Hailee Mink
Once upon a time, I adopted a puppy; I call him Levi. You might have heard our story before, or kept up with other blogs about us. Levi was rescued from horrifying conditions, in a place that such rescue organizations could never have imagined housed four 'throw-away' puppies. Levi came home with me after a few weeks of being cared for in a foster home. Levi came to me with a swollen belly, crooked and bowed legs, and a list of prescription medication. His rescue organization said the puppies were lucky to have made it; none of them were expected to survive. In my mind I know Levi understands how lucky he is; I know he's a fighter and so am I.
After his first vet appointment, I was told Levi had pretty severe defects due to prolonged malnutrition. Levi is now 2 years old, and has the body of an 8 year old. He can live life just like any other dog, but struggles with everyday activities. His front feet point out towards his sides with his wrists bowing in and his back legs can't move like they should. Levi has bilateral elbow dysplasia, had torn both ACL's in his knees before he was adopted, and has severe degenerative joint disease (DJD) of his lumbar spine. When he was just one year old, Levi had what is called an FCE (Fibrocartilaginous Embolism) that affects his right hind leg. It's a sudden painless injury in which vertebral nerve endings are cut off to an area of the body, but with time such injuries can improve.
Levi gets injections to help save his joints from further damage (on top of taking 3 other supplements daily). He also sees a veterinary chiropractor once a month for adjustments, as well as attends therapy twice a week to use an underwater treadmill after his cold laser therapy. I understand that due to these premature conditions, Levi may not be able to keep up for many years like I had hoped-but my job is to give him a chance. I want him to be comfortable. I want him to run around the yard, neck out, and head bobbing with his mouth wide open-with that big pittie smile that's won me over every day for these 2 years together.
As a mother of a dog with such needs, I get it. I've learned how stressful it is to worry about being home on time for medicine, being home on time for meals and potty breaks, making sure he has a thick comfy bed to rest his sore body on, and making sure I can financially provide for him, which is the hardest part. I get what it feels like to have to think about what you can and can't do  in order to provide for your dog. And I get what it's like to be burnt out and need a break. Sometimes, I even need to treat myself to doing something that doesn't have to do with Levi just to feel normal again.
I understand the stress of finding dog boarding, training classes, dog daycare, walks and exercises, getting in and out of the car, and getting to and from the vet every week; all for your dog with special medical needs. People will tell you "you're crazy". I hear it all the time. "It's just a dog" is not a good thing to say to someone who's child has blue hair, grey eyes, floppy ears, and four legs. Because this "dog" you speak of changed my mind on how I feel about everything in this world, has taught me how to laugh and to stop sweating the small things. So it's not just a dog; he's friend, he's family, and he's my life.
cheap dog training northern kentucky cheap dog training tips dog training dog training cincinnati dog training greater cincinnati dog training northern kentucky dog training tips dog training tips greater cincinnati