Pet Boarding: Kenneling a Dog with Special Needs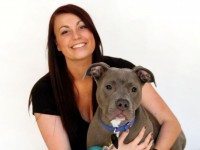 Having a dog with a list of medical issues can be stressful. Every day you worry. You have this long list of medications to follow, scheduled potty breaks, exercises or walks to keep up with, vet appointments, therapies, etc. But what about when you can't keep up with your routine? What about when you get burnt out and need a break? Better yet, how about a vacation? I bet some of you are thinking, "no way, I can't do that" or "I don't have anyone who can take care of my dog the way he/she needs"… False! NBK9 can.
See, I'm the mother of a sweet, hyper, rambunctious, 2 year-old, special needs pit bull and his name is Levi. He comes with a very long list of neurological and orthopedic issues that, for lack of better words, runs my life. Our mornings start promptly at about 5AM with potty breaks, medications, breakfast, injections, nap time, then therapy or the many different vet appointments; the list can go on and on.
Last fall, I scheduled a vacation with my family that was many, many miles away. The plan was for our two oldest dogs to stay with a family member that they were familiar staying with, but to send Levi to NBK9 where I could make sure he would keep up with his crazy schedule of medications and monitored behavior.
Levi requires supervised exercise due to his medical conditions; one good fall and he could break his back or even a hip. Levi also has elbow dysplasia, a bad back, and very bad knees. New Beginnings K-9 has special floors to keep his joints safe while he can enjoy playing with other dogs. Levi had his own suite to rest his sore bones and nap intermittently in the day. They're special trained staff that meets the needs of every dog that comes through their doors. They can give Levi his medication on the schedule I provide for them, they keep all of Levi's emergency numbers for the long list of vets that he sees for all of his issues. With our strict scheduling techniques here at NBK9, we can let all the dogs out at a minimum of 10 to 15 times a day, at no extra cost for boarding-because that's what it's like at home.
Levi was in NBK9's doggie daycare program and participated in many training classes with me as well, which gave staff the opportunity to learn the ins and outs of Levi's special walk and behavior. Every time Levi had a change in his usual limp, I was made aware. I was updated through e-mail and phone calls during his 8-day stay about how well he was doing. The staff at NBK9 are the only other people I trust with Levi's care while I'm gone; more than my other family member my other two dogs can stay with. I returned after a week on vacation, to find Levi in wonderful condition, happy to see me, and
refusing to leave!
Here at NBK9, we see your dog as our own. We've housed many special needs dogs for daycare and boarding, many of them with minor to severe medical conditions. NBK9 is such an educational facility, we even take the time to learn about medications and conditions your dog(s) come in with. We appreciate all information you can give regarding your dog and making their stay worry-free and happy for all involved.
Hailee Mink, R.N., B.S.N.
cheap dog training cincinnati cheap dog training northern kentucky dog boarding cincinnati dog boarding florence ky dog boarding greater cincinnati dog boarding kentucky dog boarding northern kentucky dog daycare dog daycare northern kentucky dog training cincinnati dog training greater cincinnati dog training kentucky dog training northern kentucky dog training tips dog training tips greater cincinnati dog training tips northern kentucky doggie daycare doggie daycare cincinnati doggie daycare greater cincinnati