Dog Brain Games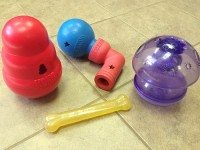 Dog and Puppy Brain Training
5 Fun ways to keep your dog happy through mental stimulation
Gabrielle Jimenez, B.A. Biology
Are you looking for ways to keep your furry friend busy? Keeping your dog mentally
stimulated is one of the most important steps you can take towards responsible pet parenting.
Here are 5 different ways that you can challenge the doggie Einstein in your home.
1. Chew Toys: A great way to keep you dog mentally satisfied is providing plenty of chew
toys. Chewing on inappropriate items often happens when dogs are left to entertain
themselves. Chewing helps relieve a dog's boredom and helps reduce stress. Make sure
your dog has a variety of chew toys that you rotate through often, to ensure he never
gets bored. Here are just a few of the great chew toys we recommend:
● Deer/Elk antlers
● Nylabone
● Kong toys(Extreme version for heavy chewers)
● Natural Chews (Bully sticks, Himalayan dog chews, etc.)
2. Puppy Playtime: We know that playing with our dogs is a great way to provide physical stimulation, but it can also be a great chance for some fun interactive mental stimulation as well. Teach your dog to retrieve toys by their name and even to put them away in the toy box. An easy way to keep play interesting and mentally challenging is to switch out your dog's toys frequently. Keep the toys put away so your dog doesn't have free access and playtime will be even more rewarding for him. Another great game that is fun and stimulating is teaching your dog to search for their favorite toys that you have hidden
around the house. As your dog gets better at finding and retrieving their toys keep hiding
them in more difficult places.
3. Interactive feeders: Use feeding time to your advantage. Making your dog work for their food is a fantastic way to mentally stimulate them, plus it slows them down while eating. Some interactive feeders are intuitive and dogs learn them quickly, others may take
some time and a little help from you before your dog understands them. Some feeders
are a quick DIY with supplies you have sitting at home now.
● DIY a feeder by putting some treats and kibble in a muffin tin and putting different size
balls and toys into each cup
● Busy Buddy and Kong brands (especially the Kong wobbler)
● Puzzle and Maze bowls
● Tricky Treat ball
● Premier Linkables
4. Dog and Puppy Training: What better way to provide brain training then taking your dog to school? Taking a group training class is a great way to provide your dog with
mental stimulation and can help your dog learn some manners at the same time. Does
your dog already know the basics? Keep finding new behaviors to teach your canine
Einstein in order to provide even more mental enrichment. If you understand the basics
of the clicker you can teach your dog a variety of fun tricks using positive reinforcement
that the whole family will love. We offer a variety of specialty training courses designed
to help mentally challenge your dog and improve behavior too.
5. Adventures: Taking your dog out to new places frequently is a great way to provide
mental stimulation. Letting your dog explore new environments prevents them from
getting bored seeing and smelling the same things day after day. Taking your dog
somewhere new doesn't have to be a big deal; short trips around 10 minutes long will be
perfect for most dogs. Check out some of NBK9's favorite adventure spots:
● Empty Parking lots (especially groceries, churches, and banks)
● Parks
● Hiking Trails
● Nearby neighborhoods
● Pet friendly stores (Home Depot and Lowes)
● Outdoor Malls
● Anywhere that is safe for you and your dog to explore on leash!
These 5 methods of dog brain training are a great way to keep your best furry friend tired and happy. Let us know how you like to mentally challenge your dogs in the comments below.
cheap dog training cincinnati cheap dog training northern kentucky cheap dog training tips dog boarding greater cincinnati dog daycare northern kentucky dog training dog training cincinnati dog training kentucky dog training tips dog training tips greater cincinnati dog training tips northern kentucky doggie daycare