Dealing with Dogs with Noise Phobias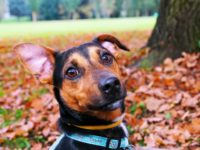 Dogs with noise phobias is a common issue that most pet owners face. From everyday sounds to more seldom occurrences like holiday festivities, be prepared and have a plan for your furry family members. Knowing how to ease a dog's stress during bouts of fear can help create a healthy, happy dog. Keep in mind, these suggestions are great ways to cope with an anxious dog during periods of fear, but they will not allow the dog to overcome that fear. Behavioral modification training can help an anxious dog learn to relax.
What are the Signs of Fear Phobias?
Extreme Panting and Salivation

Trembling or Shaking

Pacing or Catatonia

Hiding or Escaping

Chewing or Other Destructive Behaviors

Uncontrolled Urination or Defecation

Expressing Anal Glands
What Should I Do?
Try taking your dog to a quiet room. Maybe your basement or an interior section of the house.

If the noises are still too stressful, you can turn on a fan or some soft, classical music to help cover the unwanted noises.

Some dogs prefer dark rooms when they're overly stressed. Turning out the lights can help these dogs as well.

Gentle, continuous pressure can be comforting. Many people see great results from Thundershirts or similar products.