How Did Your Dog Really Do?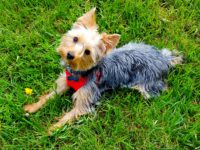 Things in the world of pet care, specifically dog boarding, doggie daycare and dog training, have been stuck in a rut and things that were applicable over 30 years ago have been proven otherwise. In the pet industry at times, it seems as if people are told what they want to hear, instead of what they need and deserve to hear.
Too many times, even in my own personal experience both as a client and as an employee at other facilities in the past, I have been given sugar-coated reports or have been instructed to do the sugar-coating. Ask yourself as a pet owner, have you often heard the same line, "They did fine".
This go-to response bothers me for many reason, but being a new mom the first thing that now comes to mind is my son. When I pick him up from his babysitter I am usually greeted with the good, the bad and the ugly of the day; Usually mostly involving diaper blowouts and him exploring and getting into mischief. If I left him with a new babysitter and was instead greeted with "Oh, he did fine.", and it was left at that, I would be immediately suspicious and my mind would wander as to what really went on while I was away. While I sometimes cringe at all of the baby exploits my sitter has been through all day, I know I can trust that she's 100% honest with me 100% of the time. The same should be true for our furry family members. Just like leaving your child with a sitter, leaving your dog at a doggie daycare or dog boarding facility can be stressful for not only you, but your dog as well.
It doesn't have to be though. Let's face it things have changed and a pet boarding or kenneling experience can be what you want, not what you hope for.
Having confidence that your doggie daycare or boarding facility is going to be honest with you about how Fido did is something that is disappointingly hard to come by. Knowing that your dog is comfortable while you're away is something that every pet owner wants and what we do here at New Beginnings is what some would consider going above and beyond, but we consider it just doing the right thing.
The dog comes before the dollar and we know that every dog is not going to be comfortable in our programs, however we always have suggestions and positive solutions for a positive outcome for the dog. Having open, honest, continual conversations with owners helps us create the most positive environment that we can for the dogs in our care. Taking a specialized approach for the dogs who need it allows us to work with them and, in many cases, welcome dogs into our facility that would not have and have not fared well elsewhere. We not only let the dogs tell us how they feel, but we truly listen and become their advocate. Our Northern Kentucky dog boarding and doggie daycare facility is setting a new standard for care, where your dog comes first. The dog is our client-period.
dog boarding near me dog boarding nky dog boarding northern kentucky dog boarding northern ky dog daycare near me dog daycare nky doggie daycare near me doggie daycare nky doggie daycare northern kentucky doggie daycare northern ky doggy daycare near me doggy daycare northern kentucky doggy daycare northern ky