My Weekend Getaway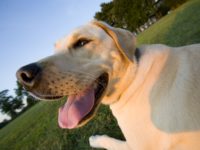 Dog Boarding in Northern Kentucky: A Story From Cash
Ahh, Memorial Day weekend is almost here. A time I look forward to all year.
You see, I'm a hard-working three-year-old yellow lab. I spend my days keeping my yard squirrel free. Exhausting work, I tell you. This year my mom has plans that take her out of town- which means that I'll be boarding at NBK9- which is great!
Staying at New Beginnings K-9 is my stress-free spa weekend while Mom is away. She drops me off and doesn't worry about me because the NBK9 team sees to my every diva whim. I get some vitamin D outside and some cardio while chasing my friends. Thankfully, I packed a swimsuit.
Each night when playtime concludes, we head back to our roomy suites, exhausted. We sleep off the day's romp and know that our parents will be here to get us soon. With ample time for socializing and rest time as need, it's easy to see why I love my time at the spa and why I've been coming here since I was six weeks old. Boarding at New Beginning's K-9 is like my home away from home.
-Cash, the yellow lab