Force-Free Dog Training: Take the "Positively Pledge"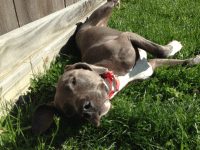 Force-Free Dog Training: Take the "Positively Pledge"
Previously we posted a blog about a December, 2013 study by the Animal Legal Defense Fund who published a list of the worst and best states for animal abuse. Unfortunately, Kentucky came in dead last, as the worst state for animal abuse; the rankings were determined by examining the legislation at the time and the bluegrass state was the worst in animal protection laws. Not much has improved for animals legally since 2013, not so long ago in the news there was a story where 49 horses were found dead on a Pendleton Co. farm and unfortunately a plea was granted dropping the majority of the charges and allowing the individual to keep the other 5 horses.
We love our Bluegrass State, where the state motto is "Unbridled Spirit". We love living in the state so well known for its beautiful horses and lush green pastures. However we feel it is embarrassing and it is appalling that our laws here in the Commonwealth of Kentucky can be so lax that, even with mass evidence proving
animal abuse and neglect, charges can be dropped.
We at New Beginnings K-9 Training have and always will take a stand for the humane and positive treatment of dogs and all animals. As a force-free dog training, dog boarding, and doggy daycare facility located in Northern Kentucky we feel a responsibility to advocate for improving the care of dogs and all animals in our area.
This region is falling behind in the vastly changing culture of dog and animal care. As advocates, we speak for the animals who have no voice, and the responsibility of spreading the word lies with each of us. Some of you may be familiar with Victoria Stilwell; the host of the popular Animal Planet television show "It's Me or the Dog" and a
widely known international dog trainer. Victoria has a "Positively Pledge" which she invites everyone to sign; this pledge focuses on the use of positive dog training methods. The pledge can also be a message to spread the need to treat all animals positively, with kindness and respect. The Golden Rule doesn't apply just to people.
The first line of the pledge is, "my dogs will follow me because they want to not because they are afraid of what will happen if they don't," this line speaks to the shift in dog training culture that we are a part of, because we believe that aversive training methods are inhumane and ineffective over time. The staff here at NBK9 has taken the
"Positively Pledge" and we invite you to do the same and to join the movement to advocate for force-free dog training. More importantly we invite you to share the positive message with everyone so together we can begin to make a difference in the lives of dogs and animals here and everywhere. To read and sign the pledge visit Victoria's Positively website.
force-free dog training force-free dog training cincinnati force-free dog training movement force-free dog training northern kentucky positive dog training positively pledge victoria stilwell