Dog Training Tips: Traveling with your Dog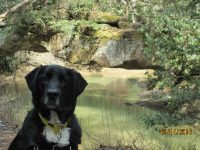 Dog Training Tips: Traveling with your Dog
Gab Jimenez, B.A.
Spring is in the air; with the recent increase in temperatures we are reminded that spring and summer are just around the corner. This means day outings, long weekends, and even long awaited vacations. For some of you this means Fido needs a place to crash while you are away. If you already have a trusted dog and puppy boarding facility make sure you reserve your dog's spots. You don't want to call last minute to find out there is no room for Fido, dog boarding kennels can fill up quickly during prime vacation times, so as soon as you know the dates for your travel plans make the arrangements for your dog too!
On the other hand if your dog will be your travel companion there are some other things to keep in mind. Vacationing with your dog can be an amazing experience for you both, but it is important to plan carefully. Here are 8 tips to ensure both you and Fido have a great trip!
1. Plan for Medical Emergencies: Always locate the nearest veterinarian to where you will be staying with your dog. If a road trip is in the mix that may include multiple vets, one near each planned stop. Plan ahead to make sure you have all your dog's necessary medications including extra in case you extend your stay. It is also a good idea to bring a pet first aid kit, homemade or store bought (the Humane Society has a list of supplies you may need in an emergency).
2. Bring Extra Food and Treats: This is especially important if your dog has a special diet, or if you are staying in a remote location like a cabin on a mountain. The last thing you want to do on vacation is spend a day searching for a pet store that sells your dog's brand of food. Treats may not be as necessary, but when you take your dog on vacation the new sights and smells can sometimes be overwhelming, so make sure you have a variety of yummy treats to help keep your dog happy and confident. You may even want to consider bringing some new treats your dog has never had.
3. Provide In-Car Entertainment: Most travel with your pet will include some drive time; don't forget to factor your dog into this especially with extended road trips. Some dogs love car rides, others are terrified of it. If you know your dog gets car sick consult with your veterinarian about medications, and if your dog is afraid of the car consult a professional dog behavioral trainer. Vacation with your dog is supposed to be fun, but if they are miserable during the drive it may not be worth it. However, if your dog loves car rides, bring them along just don't forget to provide some chews and snacks to keep them busy. As a child I loved road trips, but at some point staring out the window seeing
field after field gets pretty boring; that's why car games were invented! Make sure your pup has car games of his own to enjoy so you can focus on the road.
4. Plan Dog-Friendly Activities: Bringing the dog on family vacations is a great idea, but make sure your dog isn't spending all of your vacation alone in the hotel room. Make sure you are visiting a dog-friendly area (not all parks and campgrounds allow pets) and confirm that your dog can accompany you on your planned outings. Also consider your dog's weather tolerance; my dog is 70 pounds of big black fur that hates water, so a trip to the beach means Bruiser stays home in the air-conditioning. Luckily for him, I am not a fan of the beach, we both prefer the cabin in the woods with tons of dog-friendly hiking trails. Whether your dog prefers the beach or the trails it is important to provide plenty of water, take a lot of breaks, and be prepared to end your adventures early if he gets too hot or tired.
5. Find Dog-Friendly Restaurants:  You should also consider what Fido will do if and when you go out to eat. If you visit a dog savvy town like Portland, Oregon you can't go a block without finding a cafe that welcomes dogs. Other areas are not as welcoming, so you may need to plan for your dog to wait at the hotel. If you are staying at a cabin you may have already planned to stay in and cook for yourselves, which prevents your pup from having to be alone.
6. Find Dog-Friendly Lodging:  Know where you are staying ahead of time? Make sure your hotel, campsite, or cabin allows dogs to stay. Most places will clearly state their policy online, but you may need to call for more information about size and breed restrictions. If you don't have reservations ahead of time make a list of hotels that welcome pets, this will prevent the frustration of driving to multiple hotels only to be turned away because of Fido.
7. Identification: If the worst-case scenario happens and your dog escapes and runs off, you will be glad you took the time to secure his ID tags. It can be helpful to create extra tags with a local contact number (or your cell) and the address of where you will be staying. Take the time to confirm your dog's microchip has your current contact information; if your dog doesn't have a microchip you may want to consider getting one. A microchip provides a backup ID in case your escape artist dog slips out of his collar or loses his tags. It is also helpful to bring a file that has your dog's important vaccination records, medical history, and some printed pictures of you with your dog. If you need to make a quick lost dog poster it will help to have some printed pictures already in your dog's files.
8. Supplies:  Each dog has his own special needs, but for the most part there are some must have items when traveling with your dog. Bring his crate and bed, plus some extra blankets to switch out in case of accidents. For safe travel in the car, dogs that are not crated should have car harness specifically designed with a seat belt to keep your dog secure. Food and water bowls are a must; it may help to have a non-spill bowl to keep your pup hydrated on longer drives. Poop bags, towels, paper towels, and spray cleaner are other must haves when traveling.
Get ready and start planning those trips, your dog will thank you for it!
cincinnati dog boarding cincinnati dog training dog boarding cincinnati dog boarding greater cincinnati dog boarding northern kentucky dog kennels cincinnati dog kennels greater cincinnati dog kennels northern kentucky dog training cincinnati dog training greater cincinnati dog training northern kentucky doggie daycare cincinnati doggie daycare greater cincinnati doggie daycare northern kentucky greater cincinnati dog boarding greater cincinnati dog training northern kentucky dog boarding northern kentucky dog training traveling with dog traveling with dogs traveling with your dog