Living with Two Search and Rescue Dogs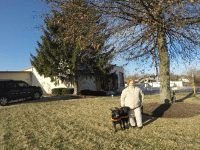 Living with Two Search and Rescue Dogs 
Sunny Allen
When we decided to get a new Labrador Retriever puppy after the passing of a retired drug dog we had adopted named  K 9 Joe my husband Terry told me that this new puppy would need a   job. I didn't know how much having a working dog would change our lives. After a very long search for the right puppy we found this little fat black Labrador Retriever puppy, we named this little guy Little Joe (L.J) after our beloved K 9 Joe.
Little Joe's obedience  training started right away with socialization and going to work at  the firehouse.
Soon when the alarm went off Little Joe knew it was time to go to the firehouse. Next came the scent work training, our granddaughter Haley would hide in the backyard of  our home and Little Joe would search until he found her and would receive his special toy for the find.  We would also hide family member's keys and train L.J to go find them!
The next phase of our new adventures was Terry and Little Joe becoming members of a Search and Rescue team. Soon at all hours of the day and night the phone would ring due to someone missing or some other type of search and off Terry and Little Joe would go into the night helping someone in need.
Little Joe became in such demand throughout the Tri State we soon found calls for help coming during holidays, family outings and birthday's this did change our life. As Little Joe aged the  need for a second K 9 would become necessary so once again our search began to find our back up boy.
June 2009 we found the right puppy "yes" another Black Labrador Retriever and named this little guy Little Joe's Shadow (Shadow), and the puppy training started all over again.
 The crate training was a little challenging but of course Shadow  mastered it in no time.
Today both of our K9s race to the door when Terry tells them "Let's go to work boys"
Living with these 2 working dogs has changed my life forever but having such satisfaction knowing that these two lovable four legged family members have helped and continue  helping  so many others in need makes me very proud and makes my life so much richer.
cheap dog training tips dog training dog training cincinnati dog training northern kentucky k9 search and rescue dogs