Getting the Most Out of Your Kong Recipes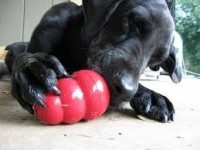 Picking the right Kong: Kongs come in all different shapes and sizes (https://www.kongcompany.com/products/for-dogs/rubber-toys/ ). The classic Kong is like a rubber ice cream cone and it comes in 6 different sizes from XS to XXL. There are also different strength levels designed for dogs of different ages. This style Kong is the best for stuffing with goodies that will keep your dog busy even longer. Make sure you pick out the right Kong for your dog or puppy and don't forget to replace the Kong as your puppy grows. If your dog is a heavy chewer make sure to get the black Extreme Kong and ordering a larger size will help too.
Teach your dog how to use a Kong: If your dog is not already familiar with the classic Kong toy you will need to show him how to use it. Start by smearing a tasty snack such as peanut butter or cream cheese around the outside rim of the Kong. Once your dog knows to lick at the Kong you can begin to challenge him by putting the peanut butter further inside of it. Eventually your dog will become a Kong eating expert and you can start to challenge them with different ingredients and even freezing the Kong.
How to stuff a Kong: Once your dog knows how to eat a Kong you can start to challenge him more. A frozen Kong is a great toy for mentally stimulating dogs and puppies. To make sure you and your pup get the most out of your Kong you need to stuff it so things don't fall out easily, but they also can't be impossible to get out. To do this, make sure the Kong stuffings are a mixture of crunchy, sticky, and a filler. Blending and mixing the ingredients together is one option, or you can layer them one on top of another. Make sure there is a layer of crunchy and sticky ingredients at the bottom to prevent any leakage. You can also plug the bottom hole of the Kong with a piece of string cheese and a bit of peanut butter.
NBK9's favorite Kong stuffing recipes
Peanut Sauce: 3 parts unsweetened applesauce and 1 part peanut butter thoroughly mixed together
Canine Delight: mix your dog's favorite canned/wet food with some of his kibble
Fruit Smoothie: blend up some frozen fruit such as strawberries, blueberries, and pineapple with fresh banana and plain yogurt
Sensitive Tummy: Mix some unsweetened applesauce, canned pumpkin, and your dog's own kibble or wet food
Puppy Pleaser: Mix together peanut butter, and some baby food such as peas or carrots
The Original: Soak your dog's kibble in some water, chicken, or beef broth
You can always come up with your own concoctions to fit your dog's special needs and preferences. Make sure your recipe has something crunchy, sticky, and a filler (unsweetened applesauce or chicken broth) to keep it from being too thick. To make it more difficult on your dog freeze the Kong ahead of time to keep him busy even longer. We always have a stash of frozen Kongs ready to go for the dogs in our care.