Choosing The Right Dog Food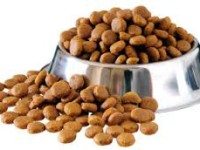 Choosing the Right Dog Food 
Gab Jimenez, B.A. 
Our dogs' diets are extremely important to their overall well-being, and the responsibility lies with us humans to know what's best for them. A poor diet can have many detrimental effects both mentally and physically; just as in humans, when we eat a lot of junk food we can become lethargic and depressed. This is why choosing your dog's food should be taken seriously. With the enormous selection of dog foods available it can be overwhelming trying to pick one; these 4 steps will help guide you through the process.
1. Research
The most important step you will take is to do research; at first start your research in a broad sense, you can get specific later. For now just make yourself aware of all the options that exist so you can pick the right one for your dog and you by watching videos and reading articles and books. After you have completed some research on your own, discuss it with your veterinarian to see what s/he suggests. You may also consider consulting a board certified veterinary nutritionist to help with your dog's specific health concerns.
2. Pick a Type
During your initial research you can easily become bogged down in the sheer number of options. Now you should start to whittle down your choices to a certain type of food; you will need to decide now, whether you want to feed a dry, canned, raw, or cooked diet. You may also decide you want to feed your dog a combination of diets, such as dry and canned.
3. Compare
Now comes the detailed comparisons; once you have decided on a type of diet you can begin to compare brands. During this step a site like Dog Food Advisor will save you a lot of time; they have done the hard part for you and gathered information on hundreds of brands and formulas for you to compare. With or without the help of a comparison site this will require the most time on your part; eventually you should learn to quickly read dog food labels for the info that's important for you and your dog. This is where you will decide what ingredients are acceptable to you and which you would rather not feed your dog.
4. Decide
Finally, after hours, days, even weeks of research you have narrowed down your selections. Now it is time to choose what your dog will eat. It may be nice to choose a brand with different formulas/flavors so you can rotate through the recipes for your dog. Just like us our dogs can get bored eating the same food over and over again.
This decision is not to be taken lightly, especially considering most dogs only eat 1 or 2 different foods throughout their entire lives. After you go through these 4 steps you will be prepared if you decide to switch your dog's food again; you may even find that rotating the types of food your dog eats improves his health and appetite. Good luck, and remember, no matter who you consult, it is up to you to decide what's best for your dog.
dog boarding cincinnati dog boarding greater cincinnati dog boarding near me dog boarding northern kentucky dog daycare near me dog food dog food stores cincinnati dog trainers cincinnati dog trainers greater cincinnati dog trainers northern kentucky dog training cincinnati dog training greater cincinnati dog training near me dog training northern kentucky doggie daycare cincinnati doggie daycare greater cincinnati doggie daycare near me doggie daycare northern kentucky