Our

Standard

For Dog Care
Your days of coming home to a doggy-destroyed house are over. Whenever you have a long workday or a busy weekend ahead of you, simply bring your furry friend to New Beginnings K-9 and we'll take it from there. We provide Dog Boarding, Doggie Daycare & Dog Training in Northern Kentucky. Our well-trained and knowledgeable staff will pamper your pup so you can relax, knowing that your furry friend is in our capable hands. While you're away, they'll enjoy a great day of play, and when you pick them up, they'll be ready to cuddle and snooze peacefully.
DOG BOARDING
We are not your traditional dog kennel.
Our Boarding program is structured in a way to ensure that
your dog is confident and comfortable during their stay.
DOGGIE DAYCARE
A balance of rest and play.
We strive to give each individual dog what's needed according
to temperament, age, size, health and behavioral factors. At our Doggie
Daycare, every dog has their play day!
PUPPY DAYCARE
Exercise, Socialization and Supervision.
Puppies are fun
adorable and hard to resist. They are also time-consuming, labor intensive
little critters. If work or a packed schedule means you have to leave your
puppy alone for hours during the day, our Puppy Daycare is the answer.
Remember, a tired puppy is a well-behaved puppy.
DOG TRAINING
Young or Old, It's Always a Good Time to Learn.
For those who
want a step in the right direction and to those who want all four on the floor
and a solid foundation, our new curriculum and class structure will allow
students to choose how far they want to take their education.
We do not discriminate against

any

breed.
Each and every dog has their own personality and temperament regardless of breed, reguardless if it is a 3lb yorkie all the way up to a 165lb mastiff.
Everything we do is based on the understanding and knowledge of the science of canine behavior. Continuing education for the latest research and techniques are the keystones for our success.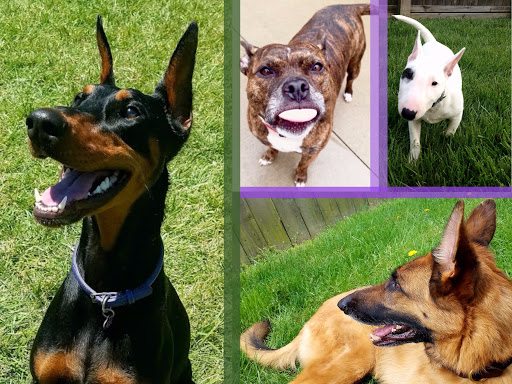 3
Grassy Play Areas
3
Indoor Play Areas
1:8
Staff-to-Dog Ratio
What Our Clients Are Saying
Whether it's Training, Daycare or Boarding – Our Clients have a lot to say about the care that we provide for their furry family members.
"Recently, we made a difficult decision to board our "fur children" while Toulouse was waiting to have a salvage orthopedic procedure completed. When we returned from our travels Toulouse's lameness, and quality of life, had improved dramatically making surgery not necessary at this time. It was clear that he enjoyed his stay and that the staff had adhered to his restrictions. We highly recommend the facility based on our experiences there."
Kristie Baker, DVM
TOLOUESE & BETTE
"When I adopted my Pit Mix, one of the first things I did was sign up for training at a national pet store chain. Unfortunately, the lack of experience dealing with the bully breeds was evident in the techniques they suggested (spraying water in the dog's face, yanking on the leash, etc.) By the time, we finished the class, I had a dog that was more excitable than when we adopted her (clearly not the desired effect). I was already familiar with New Beginnings since Lady attends daycare and boards there so I knew their methods would be sound and based on positive reinforcement. Of course, that was just the beginning and there was work to be done in between classes and the work continues even now because there is no magic pill when it comes to training dogs any more than changes in humans happen overnight but I'm so glad I found someone who could help me shape my pup's actions with positive reinforcement which only strengthened the bond between Lady and me."
Dawn Stamper
Lady
"As working professionals with a new puppy, life can be stressful! But knowing Winston gets exercise and attention at day care from people who care about him is a huge relief! The investment is worth it and your pet doesn't stay locked up all day while you are at work. The staff are excellent and Winston receives excellent care while he is there. Every day we pick Winston up the facility is spotless and Winston never smells like he has been at a kennel. We would highly recommend pet owners who care about their pets and want to use day care. You will not regret it!"
Gary & Lisa Blank
WINSTON
Contact Us!
Our website has a lot of great information, but we are ALWAYS happy and ready to answer questions you may have about our programs!
[one_page_express_contact_form]